Fireball

Casts a ball of fire towards the opponent

6

Buy / sell price

500 / 26 Gold

Stackable?

Yes

Consumable?

No

Level requirement

None

Equip slot

Stats

+4 Attack

Charge used

6

6

Dropped by

Wizard, Imp, Ettin Mage, Vampire, Dark Mage, Arch Mage, Hydra, Hydron, Orc Witchdoctor, Fire Elemental, Dragon, Imp Mage, Mystic, Dark Fawn, Fire Beast, Magic Tower, Yellow Dragoon, Green Dragoon, Squal Overlord, Enderman, Anubian, Dark Wikka, Firmir Witch Doctor, Lizard Shaman, Banshee, Golgothra Magician, Mutant Farseer, Firmir Cleric, Snobling Mage, Lava Lizard

Found in dungeon chests in

None
The fireball is a basic offensive magic used to target a single enemy creature. Wizards start out with it in their spellbook. Its attack bonus used to be 3, but an update changed it to 4. If a monster uses it, it will be a 100% drop.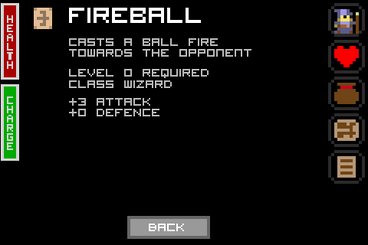 In-game description (outdated)